Finally, this is it! Welcome, WP Suggester plugin!
This plugin I have been working on since December after I came back from NoHatDigital Retreat finally released, and you can get it here!
Alright, so what does it do and why you might need it?
What Does WP Suggester Plugin Do?
From the plugin name you might already guess what it does? It's providing suggestion to the visitor to help choose the best product, offer, service and etc. based on quizzes. Then convert your visitor to a customer (sell a product or get affiliate commissions) or even better convert visitor to lead (you can get the email or/and phone number of the visitor).
How Does It Works?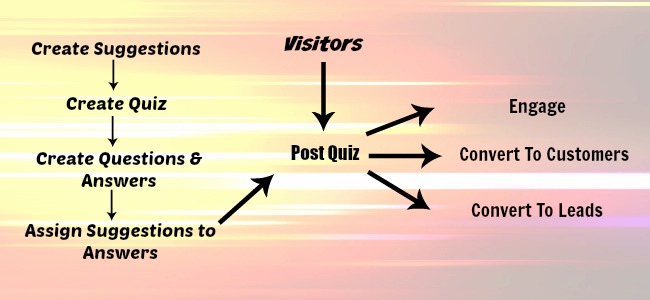 With the plugin, you will able to create quiz like this, add questions with answers and add suggestions (products, offers, services and etc.) based on answers.
For example, a visitor came to hosting provider website to sign up for the hosting (e.g. HostGator).
What does he see? Multiple products available like Shared Hosting, VPS, Dedicated Server. And each of this products have multiple plans.
Which one to choose? Dedicated server? Why if the user wants only to host his personal blog.
Shared Hosting? Ok. Then there are multiple plans? Let's go with Baby plan? He doesn't need to pay extra for unlimited domains! He can save money and go with Hatchling plan!
Convert Visitors To Customers
Alright! WP Suggester just helped to choose best product! The user then will be redirected to the product page and user more likely to buy a product because plugin just convinced him with the right purchased!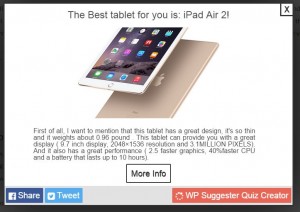 But it's not all!
Convert Visitors To Leads
With WP Suggester, you can collect emails at the end of the quiz in order to send product URL with discounted price or coupon code.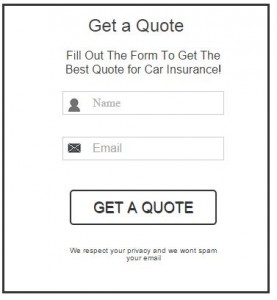 Or Just Increase Engagement and Social Sharing
You can create quizzes like:
For sure you already saw similar quizzes go viral on Facebook, and you understand the power of this feature.
WP Suggester Features
Main Features:
Increase Conversion
Increase Leads
Increase Engagement
Increase Traffic
Increase Social Sharing
Decrease Bounce Rate
Display Methods:
Add shortcode to the post or page
In the widget
Support Email Marketing Service Providers:
AWeber – One of the most popular email marketing services on internet.
MailChimp – Most popular and free email marketing service. Which is suitable for beginners.
I will add more email providers depend on priority and people needs.
Social Sharing: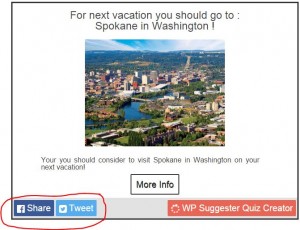 Facebook – You can pre-define sharing text for Facebook and visitors will able to share the Quiz page. When a user clicks on Share button, then window below will show up.
Twitter – You can pre-define sharing text for Twitter and visitors will able to share the Quiz page. When a user clicks on Tweet button then window below will show up.
For now I decided just to have two social sharing options in the plugin, and I will add more by priority of course.
Admin Dashboard:
Create Quizzes which leads to suggestion
Add unlimited questions to each quiz
Add up to 10 answers for each question
Add suggestions and configure points to any answer
Customize every single text, image in the quiz
Setup popups – 13 different effects, exit intend, timer and so on
Track quiz views, completions, link clicks, conversions
Track Leads (optins) info: names, emails, phone numbers, suggestion email sent, email opened, the link clicked on the email and etc.
Demos
Are you waiting for demos? I already created some demos for you!
I divided demos into four categories:
Trying to decide what is best optin software for you? I created the quiz to help you with this: What Email Opt-In Plugin is The Best For Me?
Right now, I created 17 different demos, and you can see all of them on the plugin website. Just visit WP Suggester website to check all of them.
3 Different WP Suggester Versions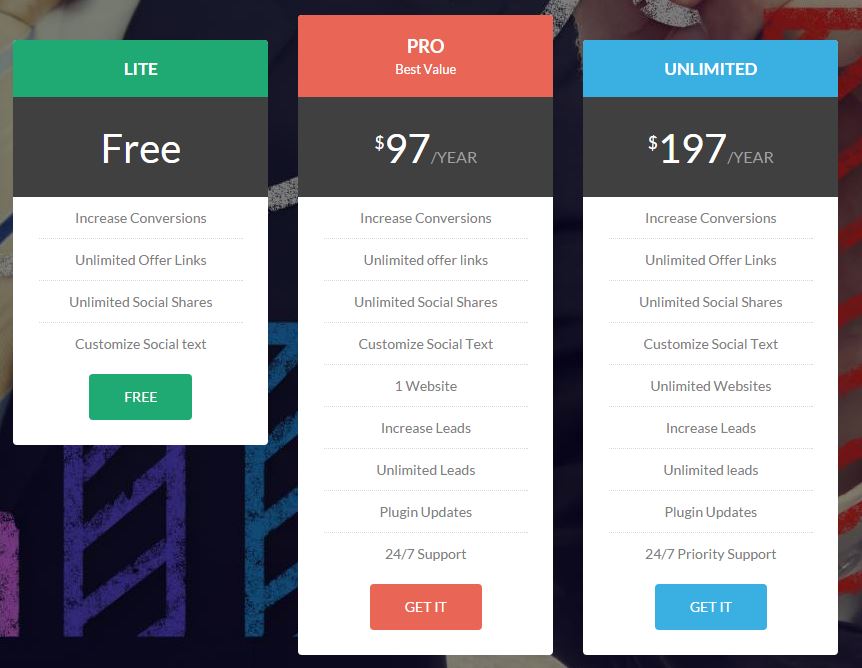 What about pricing? Can you get or try the free version?
Yes, I have free version!
WP Suggester Lite

You can download the free version and start using it on any of your websites!
With the free version, you can create quizzes for social engagement and increase conversions.
Note: Increase Conversions feature will be available temporary in the lite version of the plugin.
The price for Lite Version: Free!
Click here to get Lite version!
WP Suggester Pro

With Pro version, you will get all features and able to collect emails (leads) and install it on one of your website.
You also will receive automatic updates and customer support 24/7.
Regular price for Pro version is: $97 per year. Special price for grand opening I offer Pro version only for $67 per year. Here is the coupon to get 30% off: FIRSTUSERS.
Click here to get the Pro version!
WP Suggester Unlimited

The unlimited version will give you access to install WP Suggester Pro to any website.
And you will get priority customer support 24/7.
Regular price for Unlimited version is: $197 per year. Special price for grand opening I offer Unlimited version only for $137 per year. Here is the coupon to get 30% off: FIRSTUSERS.
Click here to get Unlimited version!
Why Am I charging yearly fees instead of one time fee?
Support – There are tons of different configurations of WordPress and each plugin, theme, and even WordPress version is changing every day. And to support all paid customers I will need to spend time or hire someone and support all paying customers.
New Features – Ability to work on new features which customers interested in. For now I have the list of top features like: A/B testing, Customize styling, Add other email marketing service, Add more social sharing providers and so on.
Conclusion
I have been working for last 6 month on this project and really excited about it. I am sure it will succeed and I will continue posting results of WP Suggester journey!
What next for WP Suggester? I will support the plugin and develop new features. I also will work to setup affiliate campaign so any of you can get referral commissions from referring WP Suggester. If you have any request just contact me through this contact us page!
I am really interested to hear your feedback about the plugin, check out demos and please leave the comment below!