Have you been waiting for my monthly report? Here is it: April of 2015 income report.
April was a great month for me. Why? Because my niche websites started picking up more traffic and on of them finally ranking #1 for one keyword with 18k monthly searches on Bing and Yahoo.
And the end of the month I finally hired VAs to work full time for me. Yes, not just one. Actually 3 VAs and 1 Writer. They just started working at the end of the month so we will see progress in next months. I will make blog post how exactly I hire and trained VAs, but for now you can read round up post which I did about how to hire VAs.
Another news. I am finally releasing my plugin on May 18th!
Stay tuned for the Monday blog post! I will reveal the plugin, and there will be a free version and coupon for paid version.
Alright, let's go to see some numbers.
Amazon Affiliate Incomes – April of 2015
I did some research and comparing of table plugins. I compared more than 10 of them, and I did A/B testing through optimizely.
Guess which one was the best by conversion rate? The 1st place got Cool Tables, and the 2nd was TablePress. Why? I think Cool Tables is better to use in a mobile version of the website.
Supplement Website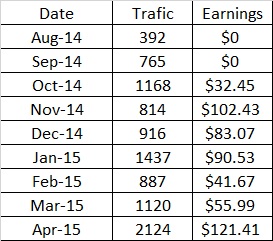 I finally hit #1 spot in Yahoo and Bing. How big is a traffic I am getting now? About 60-100 visitors per day. Not bad because I am far away in Google.
What next? My VAs are working on creating backlinks with a white hat method and my writer creating awesome content for my website and publishing it two a week for now.
In total website brought me $124.41 in last months.
Home Electronics Website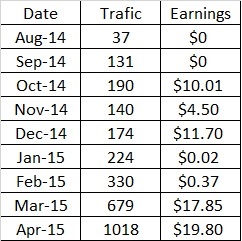 This website is getting organic links! This is the excellent sign!
I even saw links from forums like slickdeals where people mentioned my website that it has valuable reviews abut the products.
Not too many sales from here, just made $19.80 in April.
The only thing I did at the end of April: I add a nice logo that one of the graphic designers from fiverr did. Yes, fiverr. I tested out 4 different graphic designers which I found referrals to them through internet forums and order from each of them. Honestly, only one was good. And I must say he is really damn good for $5.
I setup the same plan like for supplement website. Will publish two articles per week and VAs will do white hat way to build links.
Small Niche Websites
Nothing excited here. I added a logo on each of them as well and just sold couple items.
For now my VAs won't work on this websites, and I will leave it like this for now.
Total Amazon Affiliate Income
I also made some $ from other niche websites that I totally forgot, but looks like they need my attention soon.
With minimum interaction in April in total I made only $161.70 through Amazon affiliate program. Not bad. I have a feeling the income will increase next month again!
Guest Posting Income – April of 2015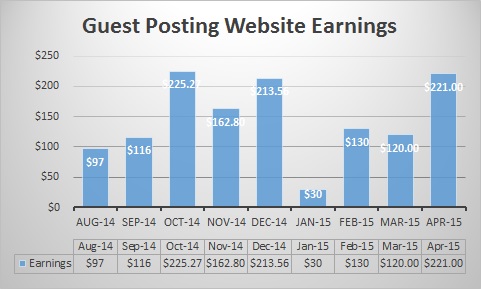 Everything steady here and made some good money in April. In total, I made $215 through guest posting and $6 through AdSense.
Residual Income
Total Income – April of 2015
$161.70 – Amazon Affiliate Websites
$221 – Guest Posting Website
In total I made only $382.7 (+$176.51).
Expenses – April of 2015
$123 – Writers from Elance
$42 – VAs
$48.25 – Graphic designers through Fiverr
$299 – Bought SEO PowerSuite – I think I will just ask money back. I bought it just to have the rank tracker, but then you need to pay for captcha services. It was disappointment for me.
$12 – Captcha service
$62 – Payment for the interview process – I am paying for interview time because my interview tasks can take from couple hours to 8 hours.
$89 – Subscription for OnlineJobs.ph
$46.9 – Bought Theme for website where plugin will reside
$226.9 – Bought Easy Digital Downloads with 4 Extensions (Licensing, Aweber, Stripe and Recurring Payments)
$19 – Aweber & Mailchimp
$34.6 – Bought expired domain
In total I spent: $1002.65
Profit – April of 2015
Total Profit: -$619.95
Ouch. There were expenses that I couldn't avoid. Like buying easy digital downloads, hiring VAs, graphic designers and paid for writers.
What next? Next Monday May 18th I am releasing my plugin, and I will reveal it in my next post! Stay tuned for the next post!