Hey there my dear friends!
In first Hello World post, I described who I am and what my goals are. To proceed to next step let's start with choosing a business type of operation structure and why I chose to start online business.
There are multiple types of business types of operation structures:
Offline Business or Brick and Mortar
Online Business
Combined 
In this post, I will review all advantages and disadvantages and will pick the best one that will suit myself and most of the people
Online Business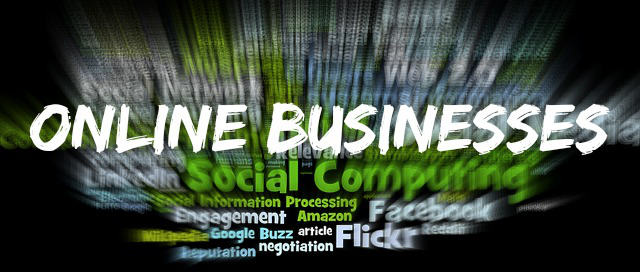 There are many way how to make money online that you can learn in next post, but for now I listed some ways and listed advantages and disadvantages.
Here are some ways to make money online:
Content Based Websites – Website provides information for people, and you can monetize them with ads.
Sell Products – Selling products on a website that you own or working with distributors or with drop shipping companies.
Sell Someone else Products – Refer people to buy someone else products. For example promoting specific products from Amazon and referring traffic to amazon.com.
Advantages:
Start Cheap – Anyone can start their online business from scratch without knowing coding. You can get free second tier hosting, load WordPress or other blog platform and start customizing. Add content and product they want to promote.
Variety – There are plenty of choices and option when you are looking to open an online business. You can sell your old stuff that are dusting in your garage, or crafted products that your hobby creates, or luxury private jets service.
Customers – After you open your online business you want to get traffic to it. You can get free traffic from Google, Bing, Yahoo, and other search engines for free with search engine optimization (SEO) or get traffic from social networks. Then you can convert traffic to customers.
The biggest benefits of starting an online business, it's easy to start and with low-cost.
Disadvantages:
It's In Your Hands – There are people online who made millions and got rich online, some people worked hard for years, and others got rich quickly. You won't be successful in online business if you won't put time and effort to build it.
Authority – Each business has an authority, and you will need to work to create authority for your website.
Need some work to create traffic and long-term customers.
Offline Business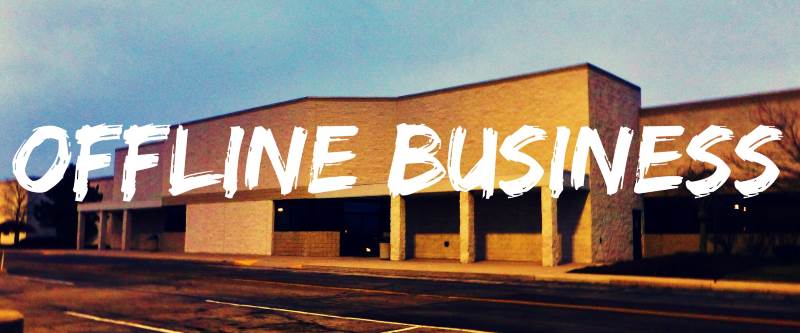 From the beginning of trading, it has been the first and original way to start a business. You can open physical location where customer able to walk-in and buy service or product that you provide.
Advantages:
Instant Authority –  You can show to customers that you have enough money to established business where people can walk in to purchase products or services.
Traffic – Location is a matter of offline business. If you open your business in the mall located in downtown of a big city you will get traffic instead to your store and people will spread the word. In another hand if you open your business outside the city far away from everyone,  you won't get traffic unless if you are willing to spend money on marketing to drive traffic to your business.
Show The Product – If you have a store then people can walk in and check products on display. This helps the customer to buy your product.
Location and instant authority of your business can be the biggest pros.
Disadvantages:
Cost – First you need to rent the space that depends on location, length of rent and other factors. Also, you will need to spend money to buy all equipment for your business.
Lost – If the business doesn't make a profit you can lose it, lose your capital, savings and go bankrupt.
Employees – You will need to pay to employees from minimal wage to competitive wages in business niche and location.
The are many disadvantageous and the biggest disadvantage is the cost to open and maintain brick and mortal business.
Online + Offline Business
This is the mix of online business with offline business. It would be a great business model if you started an online business, grow it and open an offline business. It also works in another way to move from offline to online business.
Advantages:
Improving The Brand – If you already created your successful business, then you created a brand. You can use another way to improve your brand by opening offline or online business.
New Customers – If your online business is successful and you able to make great profit from it then you already know that your product is converting well. You can convert your product and sell it in the store. You will drive traffic in both ways to your online and offline business, and you can at least double your profit. The sky is the limit!
New Chance – If you struggle to sell your product offline then you can start for free to sell products online or another way.
Test – You will able to test your product first online and then move it to offline business with less risk.
You are creating your brand and exploring new horizons for your business.
Disadvantages: I can think of just one here.
Bad Product –  You can sell bad products and old dusty stuff from your garage online, but you have fewer changes to succeed offline.
Why I Chose Online Business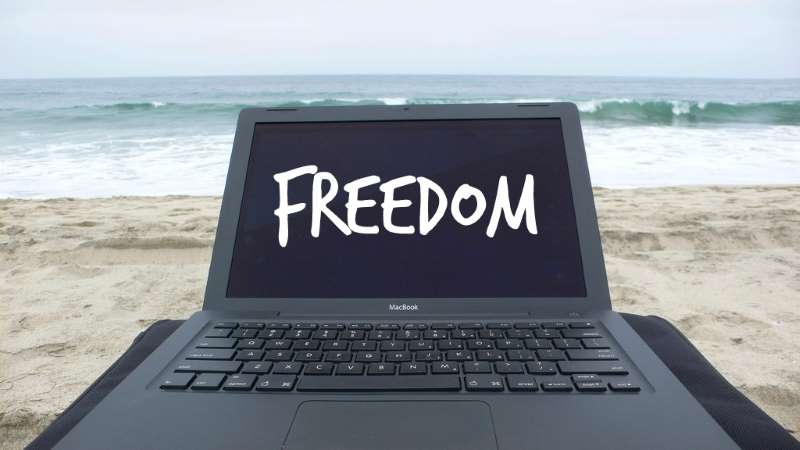 I am considering to create multiple businesses and test the waters first before going offline. There are a lot of online opportunities that I can take advantages. And it will be more easily to proceed if I would like to expand my brand either online or offline. I found that the online versus offline business decision could be easier than you think.
Quick look at Internet Growth
Every year Internet is growing faster and faster and more people using it every year. The numbers are just insane. Right now when I am writing this blog post internet estimated 3 billion users globally in 2014, it's almost half of earth population. Internet usage grew 300% over ten years and 600% since dot-com boom in 2000.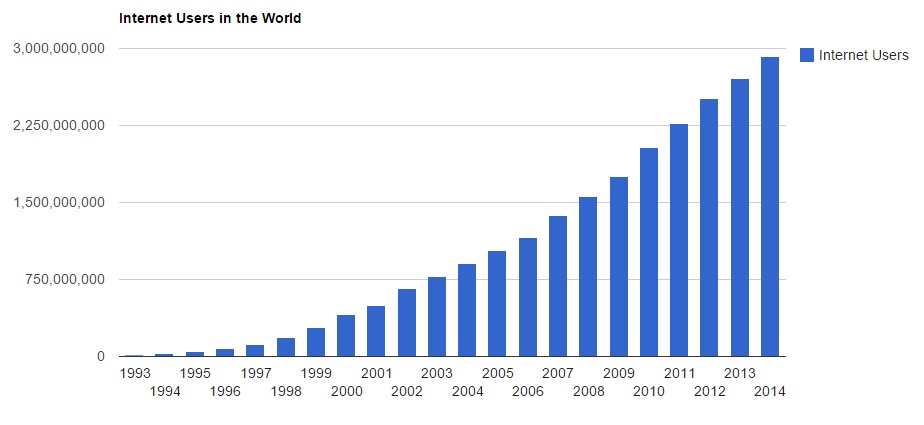 Look it's 3 billion potential instant customers! It's the first 3 billion reasons why I started an online business!
Also big spike happened after people start using smartphones and tablets, and it has been a major drive for internet traffic and online businesses. You probably one of the people who has either email, Facebook or Twitter account setup on your smart phone. Yes, you are part of this numbers.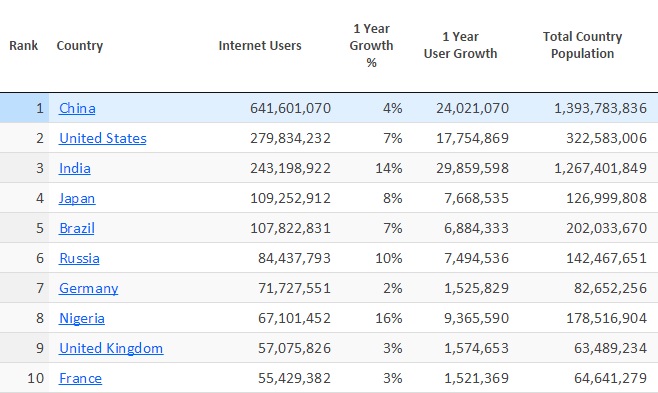 Internet business keep growing and people keep spending more money on online advertisement every year. If you have established internet business and you are targeting customers from USA then you will get at least 7% more traffic next year. There are a lot of possibilities in countries like China, India, Brazil, Russia and etc.
In short, internet will keep growing and it will get more traffic which you can drive to your online business and make the traffic your long-term customers. It means: traffic will increase, you will get more customers and you will able to sell more products.
I Can Make Better Profit
Benefits of the online business model are potential cost saving since you don't need to pay rent and pay to your employees. You can start your business for free or low-budget. All you need to do its to build a website from scratch with information or products and drive traffic to your website.  Since you don't have any  physical location of the store or office you can cut cost and move your capital to create relevant content and outreach different websites.
Better Tools For Marketing Insights for Testing
Great marketing is a key for successful businesses for both business types. If you never had experience in marketing its great way to learn since internet marketing requires different skills compare to offline businesses. It has own great benefits versus offline ventures. There are plenty of tool and data available to use in online marketing to convert traffic to customers.
Tools and Methods –  There are wide variety of methods available for marking online. For example you can use: email, web content, video, audio, social media, blogs, newsletters, affiliate marketing.
Target Specific Customers – You can target specific demographics and customer profiles through social media. For example: People who live in USA and age above 18.
Change On The Fly – You can change your marketing strategy on the fly. You can update your lading pages, site layout, re-order sale pages, newsletters with couple clicks of the button.
Track Real-Time Results – With so many analytic tools available for real-time tracking, you actually know right away where the customer come from and what he is looking for. You can track back and compare data weeks, months or years back. This benefit you to tweak your business and adopt for better sales or fill the gaps. You can use Clicky or Google Analytics for it.
My Favorite Reason
Unlock bonus content below by sharing or liking this page!
Lower Risk
I can develop online business with no money cost or better multiple business and if one of it didn't work out then I just can walk out without losing anything.
Online Businesses Help The Environment
No Gas – Since I and my employees don't need to spend money on gas for a car or bus to go to work it will save an environment.
No Papers – All data in computers and in the cloud or just on your fancy smart phone. Saves the trees.
No Construction – No need the land and building for my office.
New Chances
If something didn't work out you can try something else without big troubles. There are tons of different online business ideas possibilities. I will discuss it in next article.
No Employees
Can you imagine that you need to pay minimal wage or competitive salary to your employees every 2 weeks while running your business. And also manage them in real-time. This is big and takes a lot of time, experience and money.
After all 8 factors I am choosing the online venture for myself. I will start and develop online businesses and will try to expand some of them to offline businesses.
Did you like what you read? Then subscribe to my exclusive newsletters below and follow me on Facebook and Twitter! And join me in my next post where I will brainstorm online business ideas.