Welcome to my "monthly" income reports!
You will find income stats from my niche websites and guest posting website. I am currently traveling around Brazil, and I don't have access to my AdSense account to show earnings, but you will find everything else below.
As you may know, I was busy with developing plugin for WordPress and took more time than I was expecting and didn't have too much time to work on niche websites and my Residual Incomer blog.
I think it's good to work on one thing at the same time than spread out over different projects. It's easy to get lost. I also took some breaks and I was working on some local business website and posted couple articles on Residual Incomer about tax deductions tips, how to hire VA's round-up post and how to do content writing to rank websites.
Let's take a look on my earning this two months.
As was expected my earnings dropped because people tend to not buy products at the beginning of the year.
Amazon Affiliate Incomes – January and February of 2015
Supplement Website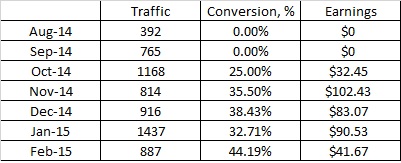 I didn't do any work on any of my Amazon niche websites. And traffic went up in January up to 60%, but earnings were only 10% up compared to December.
In February traffic and earning went down probably because some new competition shows up and ranking higher than my website in Bing and Yahoo. Their website contains only one page with affiliate product review from click bank.
And they rank higher than my website just because of spam domain name with dashes like "best-supplements.com" instead of my domain "bestsupplements.com. And their website has 0 backlinks 🙂
Here is the example how you can rank the website in Bing and Yahoo with 0 backlinks with just the spammy domain name.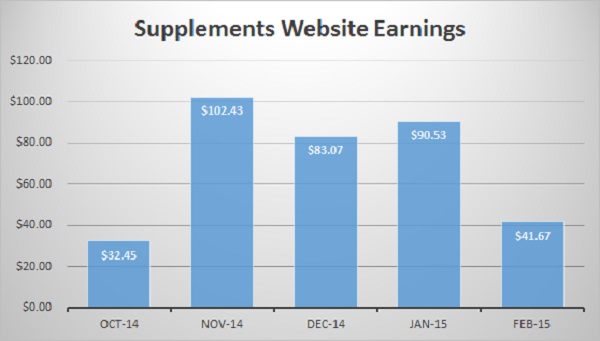 For now website only get around 3% from Google.
My plans:
Create own supplement products
Add more content.
Build backlinks to increase ranking in Google.
Increase social network popularity.
Home Electronics Website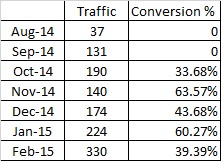 The funny part that I didn't check this website for two month and was surprised when I saw traffic from Google. I guess Google Sandbox period is finished, and now the website can rank in Google. And I expect to double traffic in March because in first two weeks website already got over 330 visitors.
I have a great conversion to Amazon, but people don't tend to buy this kind of product easily. The niche is too small, and the products are too expensive.
And, unfortunately, made only couple dollars during this two months.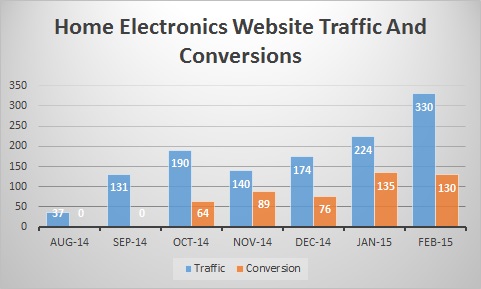 My plans:
Update website to increase conversion.
Re-target website and traffic to different niche products to increase my earning.
Add more content.
Build backlinks to increase ranking in Google.
Increase social network popularity.
Laptop Accessories Website
I haven't done anything with this Amazon website too. And there is just one page set up with links to Amazon.
This niche is so small even with Avg product price $25 I only was able to make $4 in 2 months. I think there I should convert traffic to different products and add different kind of accessories for laptops and don't stick with only one niche.
The conversion rate was pretty much the same through every single month. Half traffic comes from Google and another half from Yahoo and Bing.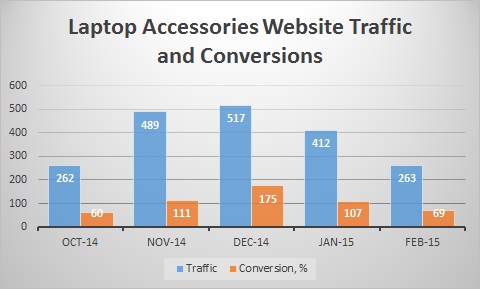 Apparently I need to:
Update website to increase conversion.
Re-target traffic to different products.
Add more content.
Build backlinks and social profiles.
Total Amazon Affiliate Income
In total I made only $155.03 ($112.69 in January and $42.34 in February) through Amazon affiliate program. It's small, but I think it's because sales at the beginning of the year usually lower than Christmas time. And competition outranks supplement website in February.
As you can see from above, I have plans and strategy for future of my niche websites.
Guest Posting Income – January and February of 2015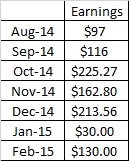 Beginning of the year was slow not only for consumers, but also for businesses.
I only published couple guest posts in January and orders start coming in February.
The funny part that this website was featured one day on Google News. I am not targeting this website for traffic, but it's great to get extra visitors and earn couple bucks through AdSense.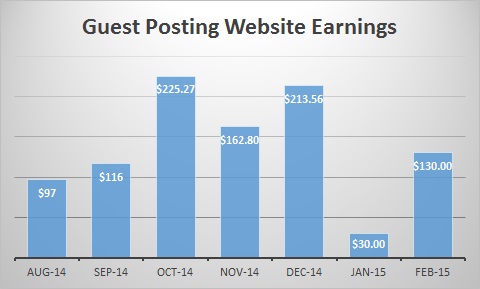 I won't do anything for now with this blog, but in future my VA will promote paid guest postings over forums and another network to increase earnings. Depend on how it will work I will decide to keep the website or sell it on Empire Flippers.
Total Income – January and February of 2015
I didn't have any expenses for my websites and all income during this two months is a profit.
In total I made only $315.03 ($142.69 in January and $172.34 in February) and Avg $157.5.
If I dedicate full time to promoting, backlinking and updating my niche sites than I earnings will be way better than this.
You may notice I included conversion rates in my report. Why? It's the hint to WordPress plugin that I am working on. Yes, the plugin will increase conversion rates on your website. And I placed beta version of my plugin couple days ago on my websites to see how it will improve conversion rates. This feature will be free of course, so everyone will able to use it!
If you are interested to test the plugin then just send an email to me and I will give to you beta version for testing!