Another month just past and I am back with March of 2015 income report.
I have been busy with my plugin development and again I was pushing everything behind it to finish as soon as possible.
Why does it take so long? I am asking this myself every day.
Here are couple reasons:
Last time I have been using PHP, HTML and CSS was in 2008 when I was working on my graduation project. And I need more time to start coding like a crazy monkey.
I didn't have experience with JavaScript and JQuery. And honestly it's a pain to debug.
It's my first WordPress Plugin and never developed anything for WordPress. Takes time to create widgets, admin and user views.
Connect to 3rd party APIs like MailChimp, AWeber and Mandrill and make my plugin easily extendable to other platforms. Again learning curve.
And bugs. Of course, there is no software on the planet with zero bugs. It's funny how I thought the plugin was finished a month ago.
Took two weeks off for the trip to Brazil.
I spent some time researching my main competitor, and after I had come back from the journey I redesigned the code and added a feature that competitor doesn't have it.
Added 3rd party licensing tool. This is not fun, but always learning hard.
And finally: I am one man team!
I think the most time for me it takes to modify and play with CSS. I am not a designer, and this is the big downside for me.
Also, I setup it on a couple of my niche websites on the middle of March for testing and I was thinking everything works correctly. It was great to find out that it wasn't working because some JavaScript from the theme was broken. I updated and made code more generic.  And setup latest version on my supplement niche site.
Next day in the morning, I checked my Amazon affiliate account and was surprised to find my conversion doubled. And clicks through rate from niche site to Amazon increased twice! Let's see how it will be after couple weeks.
Alright so when is the day?
April – May.
I can wait people start using it!
What next?
I am currently working on a website for the plugin:
Adding content
Creating demos
Adding email subscriptions campaign
Polishing sales pages.
As you can see, I should start doing marketing and work on the website right away when I started development.
At least Logo is ready already 🙂
Anyway, let's talk about my niche sites.
Amazon Affiliate Incomes – March of 2015
I didn't do any work over there except setup my plugin on the supplement and home electronic niche websites.
Supplement Website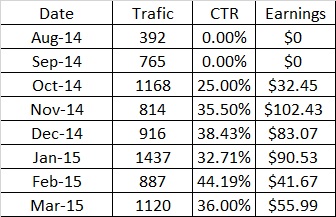 Remember in last income report I mentioned that some competitor with really spammy website outrank me. Now it's gone in nowhere.
My plans are still the same, and I wouldn't do it myself. Hiring proper full-time VA and training him will be the primary goal.
Home Electronics Website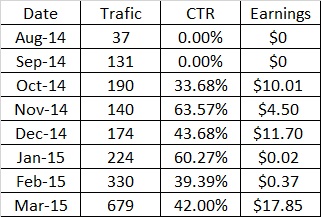 Traffic is growing up  here! And I see ranking is jumping over there for the multiple keywords every day from page to page.
The problem is here that there isn't significant keyword for this niche. The biggest long tail keyword is 2k monthly visitors and currently the website is ranking with only small long tail keyword up to 300 monthly visitors per month.
And other problem with this niche: not too many people interested to buy products.
It's all learning curve and the same idea and the plan like with supplement niche website.
Laptop Accessories Website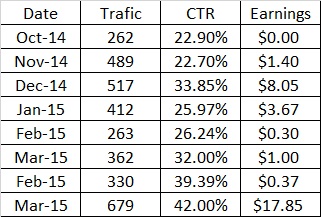 I will need to spread this niche and not just to focus on the main keyword products.
Add silos (categories), more content and proper SEO.
Total Amazon Affiliate Income
Alright. So without any interaction how much did I make in March from niche websites?
In total, I made only $74.84 in March through Amazon affiliate program. It's ok since I didn't work on it for last six month.
Guest Posting Income – March of 2015
I started working with couple agencies who will provide articles for multiple websites.
Everything is steady here except I had some traffic spike for a day from Google News, but it's just happened once.
And almost everything automatic and I made $120 through guest posting and $12.35 through AdSense.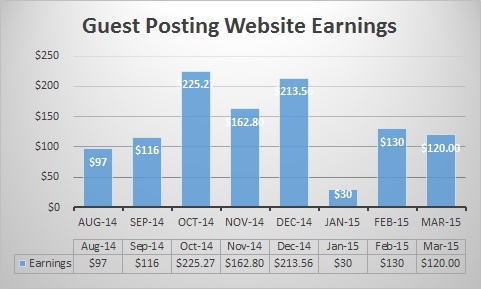 Total Income – March of 2015
In total I made only $206.19 (+$33.85).
I hope I will hire and train full-time VA soon. For now I will continue working on training materials and video tutorials.
Also, currently I have couple beta testers using my plugin and If you are interested to test the plugin then just send an email to me and I will give to you beta version for testing!