Welcome back my friends to another great post on Residual Incomer! In last post, I explained to you how to create a website for your online business. If you don't have your website ready yet then you should consider getting now before you start with keyword research.
How To Do Keyword Research and Why It's Important
It's not just another article I wrote about how to start your online business and so on. It's a crucial guide how to do keyword research to rank content on your website.
Why do you need to do it? Do you know how people are looking for some products or services? They type words in search engines. For example: "Best led TV". Then top 10 results will get more clicks and traffic. Traffic = potential customers. The more customers you will get the more products you will able to sell.
But how you can get on the top of result page with big competition like "Best Buy", "Amazon", "Target" and etc? I learned there are many ways how to find keywords for your website. You need to find low competition keywords, and I will teach you how. The secret is: you need to find long tail keywords.
What are Long Tail Keywords and Why You Should Use Them?
Long-tail keywords are longer and more specific search terms than usual search keyword phrases people putting in search engines. For example, here are two keywords like "Best led TV" and long phrases like "best -led TV on the market".
Let's analyze this two keywords and check them at MOZ keyword difficulty tool. As you can see "best led TV" keyword has 570 average monthly searches and keyword difficulty is 58%. But if you try to look up keyword like "Samsung 40 inch led TV", then you have better chances to show up in the top 10 in search engine results.
"Samsung 40 inch led TV" keyword has 200 average monthly searches and keyword difficulty is only 46%. It's a big difference in keyword difficulty, and it doesn't matter if average monthly searches are lower. It's better to be on the first 10 top results with less monthly searches than be on a 3rd page with 500 searches per month. No one will look for a product on a 3rd page or below. People usually click on top results only and in the end you will get bigger traffic with long tail keywords compare with big keywords like "best led TV".
In my suggestion, very keyword below 50% is worth to targeting, but I prefer to find keywords with the difficulty below 35%.
Moz provides not only keyword difficulty tool and authority Checker tool; you will be surprised how many different great tools it has for your business needs. You should check them out, and you can get free 30 days trial.
How to find a related keyword for your website? There are eight ways how to find keywords for free, and I shared this information below.
8 Ways To Find Keywords For Free
Use Google Auto Suggest
It's not a secret for you that you have been using this method often when you are searching for something in search engines. You can just go to Google or other search engine and start typing your keyword, and it will suggest longer keyword for you. For example, if you type "best led TV" you will get next suggestions: "best led TV 2014", "best led TV for gaming", "best led TV under 500".

Here you go, you just found three new keywords. Also here is the second trick. You can type the specific letter at the end of you search query different letter to get new suggestions starting with first specified letter in words. For example if you start new word at the end of keyword phrase "best led TV" with letter "a" then you will get next suggestions: "best led TV at Costco", "best led TV August 2014", "best led TV Amazon", "best led TV at Walmart".

And you can continue with all letters and get top searches that people do in Google or other search engines. Another trick here that you can get auto-suggestion between words in the search query. Here is my example if you type "best led _ TV" then Google will replace the underscore symbol with new suggested letter. In the example below I just got another 4 new keywords: "best led smart TV", "best 3d TV", "best led 60 inch TV", "best led 55 inch TV".

Don't forget about other major search engines like: Bing and Yahoo.
Here is example of auto-suggest from Bing:

Here is example of auto-suggest from Yahoo: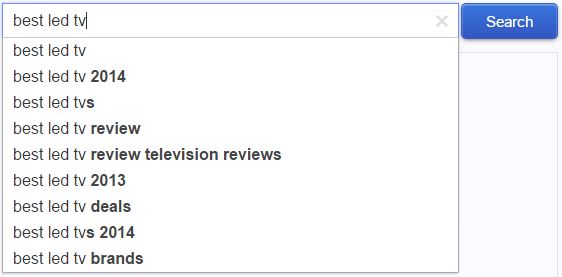 As you can see, Bing and Yahoo have different keyword suggestions because they have different data of top search queries.
Check Related Searches in Search Engines
Did you know when you do search in Google it also automatically display related searches on the bottom of the page? Yes, it does, and it's handy. Here are some related searches for search query "best led TV".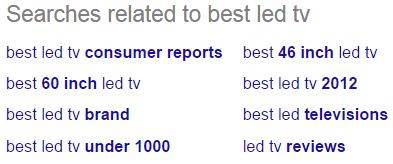 As you can see, you got another eight keywords that you can use for your business or website. Btw the result page calls SERP (Search Engine Result Page).
Similar to Google technique you should check another search engine as well for related search.
Here is example of related search from Bing:

Here is example of related search from Yahoo:
Again as you can see, different search engines have different keywords in top related searches.
Look Up Keyword Group Ideas
Google has many tools and resources available for public because they make money from ads, and they want you to help to spend money on them.
One of the great tools available from Google is Keyword Planner where you can find keywords available and how much you need to spend on ads for the particular keyword. It has a feature that allows you to find group keywords if you provide just one primary keyword. Just go to the Keyword Planner tool, click on "search for new keywords and ad group ideas", add your keyword and click "get ideas".
The example below if you put the "best led TV" keyword into keyword planner tool.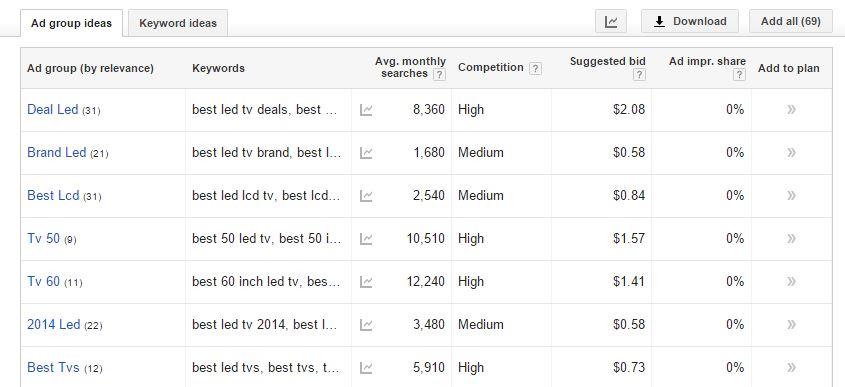 You can also check Keyword Ideas tab and get information of top related keywords with all the data for each keyword. Nice isn't it?

As you can see, the tool provides many different groups of keywords that you can use. And if you click on one of them, you will get full information for each keyword like: average monthly searches, competition, suggested bid to buy ads.
Take a Look at Google Trends
Google Trends is another interesting keyword research tool from Google and this tool have special features.
Instead of just getting different keyword suggestions, it will show the most popular searches right now or information when the peak of particular searches during the time.
Let's go with my example again and check when the biggest spikes occurred.
As you can see by the graph the biggest interest was during holiday season in November-December. Of course, people looking for great deals on Black Friday to get presents for Christmas.
You can apply this tool to figure out when your business or product will be popular during the year. Also on the bottom you can refine your search by country, city and get related search queries.
Get Amazon.com Data
With Amazon you can do similar search for keywords like you did with Google auto suggest, but only for consumer products.
Just put your keyword into search bar and you will get automatically suggestions. The same goes if you add different letters at the end of search query, just like in search engines. Well the secret is: amazon.com is a search engine too, just only for their website. The one thing is different here that you can get keywords just around everywhere after you search for some product.
Enter any keyword query in search and you will get keywords on the left in category menu. Yes, each category can be used as keyword, then you can click on the category and use every single feature and brand of a product as a keyword. I highlighted all keyword suggestions below as example if I search for "best led TV".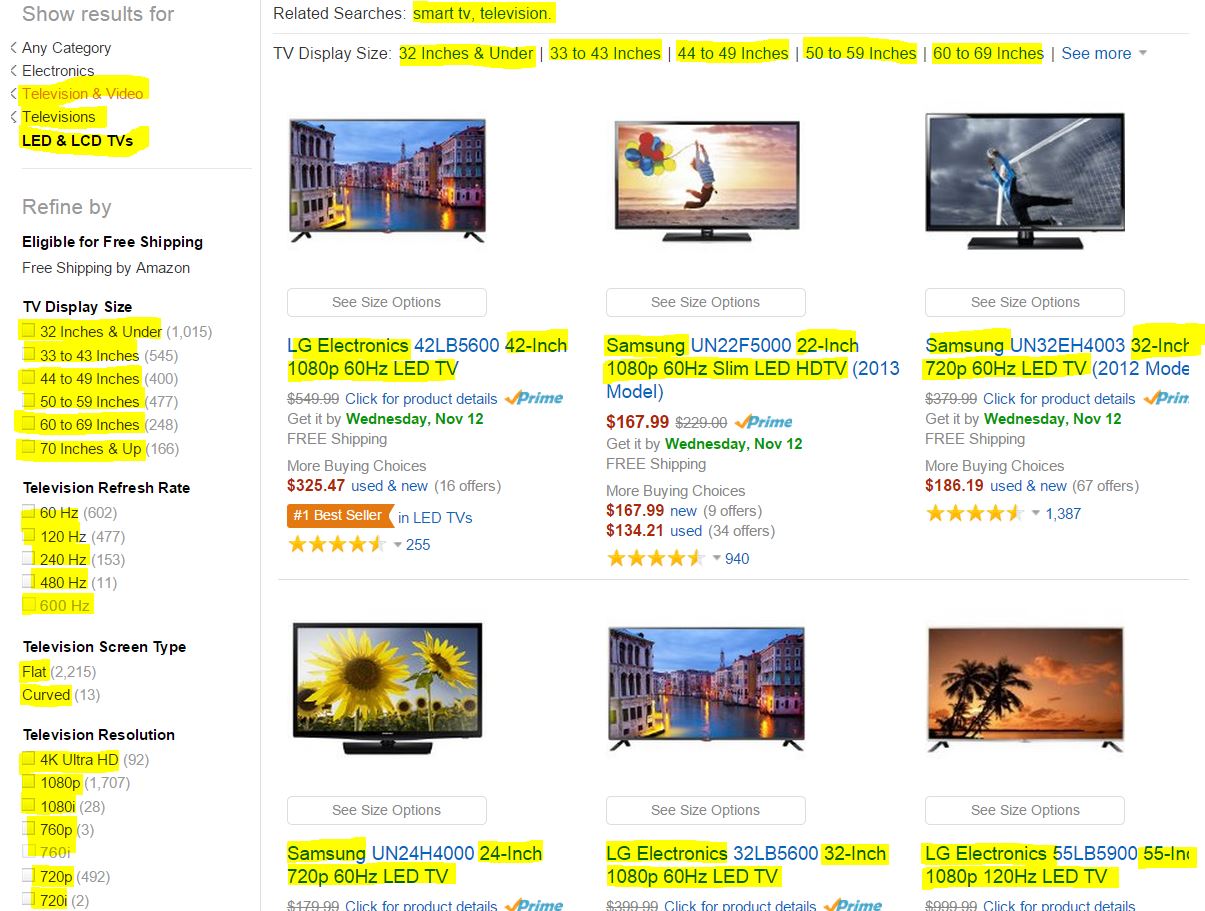 eBay and Google Shopping are Product Search Engines Too
You probably already guessed that you can do similar ways with eBay and Google Shopping like we did with amazon search. Just type your search query in eBay or Google Shopping and you will find similar structure where you can identify related keywords that are you looking for.
The results probably will be similar to Amazon, but you will find some hidden gems there.
Get To Know Ubersuggest
When I was looking around for some free keyword tool, I got my eyes on Ubbersuggest tool.
What interested about this tool that you can just type your keyword and get all quick suggestions like: top search suggestion results, suggestion results with adding all letters of alphabet to new word at the end of query.
Great thing that you can expand each keyword in result and get additional top keyword suggestions. Just like i did with "best led TV brand" result below.
There is another feature of this tool: you can just with one button click select all keywords suggestion.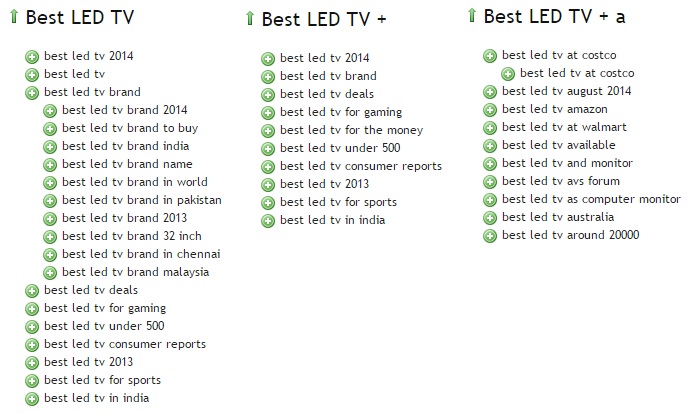 Wikipedia Can Be a Gold Mine
Do you know what is Wikipedia? Yes, you are right, it's a massive encyclopedia. And it's in the top 10 world most popular website and Google rank it really high. It has a lot of important information for almost everything and no advertising! This is why Google drive 20% of traffic to Wikipedia. But how it can benefit us for keywords research? Big correctly formatted content will have keywords that people are putting in the search queries!
So how to find them? Here is one trick:
Go to Google and type "site:Wikipedia.org" and you will get 76 millions pages. Now it's probably bigger.
Now you need to specify what topic you are looking for. To get more information for myself I did in next search query: "site:Wikipedia.org led TV".
Now you got different results related to the topic from Wikipedia. Pick one of the results.
Check each paragraph, identify other relevant keywords from the content.
Copy all related keywords that you able to identified.
This method takes more time and skills, but you will find some interesting keyword and you will able to learn more about related topic. Fortunately for you there is the tool below that can find keywords from Wikipedia for you.
Above I shared 7 free keyword methods which will help you to find keywords for your content. You might be confused which is the best free keyword tool? Below you will find the master of all free keyword tools! Just like or share my page and unlock bonus information about the most powerful and easy to use keyword tool for free!
At the end I want to say my suggestion for you: you will need to get around 200 related keywords with keyword difficulty below 50% for your business and you are good to go. If you find 100-200 related keywords with keyword difficulty below 35% with good average monthly searches then my friend you found gold mine. To get there you will need to do all manual work from above to find new keywords for you future business and it's really time consuming. Fortunately there are some great tools available on the market to automate your process. I used many of them and below you will find my recommendations what to use.
How I am Doing Keyword Research to Build List Of Long Tail Keywords
There are many tools available on the market like: Long Tail Pro, Market Samurai, SemRush, SpyFu and Keyword Spy. I will review and compare each of them in future.
The best tool that I have been using so far is Long Tail Pro. It's not just keyword tool, you can actually get list of long tail keywords and right away information if you will able to outrank your competition for each keyword. Also the toll will help you with domain name availability for your main keyword. The best thing that you can get this tool for 10 days for free!
Here below you can watch quick video tutorial how to build a list of long tail keywords with Long Tail Pro, made by creator of the tool.
I am using this keyword tool to build list of long tail keywords and usually come out with list of minimum 200 long tail keywords with low difficulty. When I was searching for long tail keywords for my brand-able website, at the end I came out with more than 600 long tail keywords and around 200 of them with keyword difficulty below 40%. I am pretty happy with the results and I will do more research later because my niche is pretty broad.
When you finish with keyword research and got list of low competition keywords, you can move forward to next step: creating content about your product or business for your website! Meanwhile, to be on the top of business game, please subscribe to my newsletters below and get latest news and updates from me.
Did you like the article, please share it and follow me on Facebook and Twitter. I am also interested and really excited to hear how are you doing keywords research for your website. Share your thoughts in comments below!