As I mentioned in my last income report, I started using PandaBot software to rank one of my websites through usage metrics. And the results you will see below are incredible! I increased my income 9x times!
What is Usage Metrics?
It's one of the 200+ ranking metrics Google is using right now. The ranking algorithm is evolving every day, and Google is trying to understand what user wants to see on the SERP.
Google is trying to rank pages higher if user types a keyword, clicks through the SERP on the page he was looking for and stay longer, browse around and so on.
Here is the list of common usage metrics:
Click Through Rate (CTR) – Percentage of users click on the page on SERP for the specific keyword. The bigger percentage is better.
Bounce Rate – Percentage of visitors landed on the page and didn't leave without browsing it. The lower percentage is better.
Average Time on Website – Average time visitors spend time on your website The bigger time is better.
Page Views per Session – Average page views per session. The bigger is better.
Usage algorithm takes all of above metrics and calculates appropriate ranking.
What is PandaBot?
In short it's a network of real people who is browsing each other websites for given keywords.
Now let's go deeply into it.
How Does it Work?
Each of the members can add their Website to the system and specific keywords that he wants to rank for. Then members can download Panda Smart Browser and start browsing others websites on the background.
When for example I browse websites of other members then I will earn time credits. This earned time credits I can use on my websites so other members can browse my website as well. The system works like: "I scratch your back, and you will scratch my back".
From the screenshot below you can see during two months of the service usage, I earned 1618 hours of traffic and spent 1620 hours. My current balance is 8 hours. And they give you 10 hours for free just when you sign up to try it out!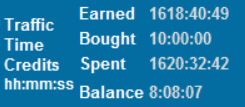 How to Setup Website Campaign?
1. Register
Go to PandaBot.net website and register.


2. Add Website
Go to the back office and click in tabs Settings->Promote Your Website->Website Profile. Click on Add New Website. The window will pop up which you can see below.
Where you can fill data about your website like:
Website – URL of the website
Secrecy – If you want to hide search phrases and browsing from PandaBot Browser
Max Visitors Per Day – How many visitors per day you allow to visit your website through the network
Import Pages and Keywords – You can manually either automatically add this data or manually enter it.
Fill out the form, click Save button and move to add keywords step.
3. Add Keywords
After you added your website, you will need to add keywords that you would like to rank for
Assuming you are still in the back office. Then just go to in tabs: Settings->Promote Your Website->Website Keywords. Click on Add New Keywords.
Here you can choose:
Website – Choose the website to assign the keyword
Keyword – Type the keyword you would like to target it. Note:

This keyword already should rank in top 100.

Max Visitors Per Day – Maximum of visitors your website will receive per day from this keyword.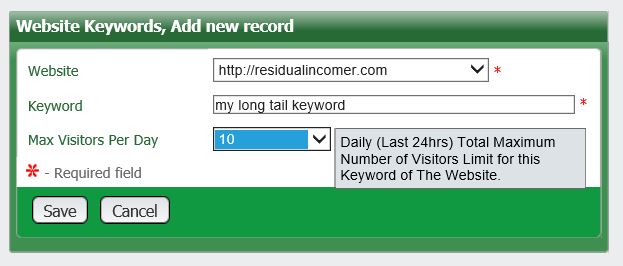 Choose your website, type you long tail keyword, select Max visitors, click Save and let's setup the campaign.
4. Setup Website Traffic Campaign
Navigate to Settings->Promote Your Website->Website Traffic Campaigns (Random Order of Pages). Click on Create New Website Traffic Campaign.
Here you can find more exciting stuff. You can fully setup your campaign once and let it go on auto-pilot.
You can setup next data:
Traffic Source Country – From which country users of PandaBot network should be to browse your website.
Max Time Usage Per Day – How many seconds per day people can browse your website.
Max Visitors Per Day – Max visitors per day to your website through PandaBot.
Max Concurrent Visitors – Max visitors at the same time on your website.
Keyword – You can choose particular keyword only or set as #Random Keyword# to target random keywords from the list.
Max Negative SEO (Per SERP) – This is the interesting feature. To make it more real bot will click on other results on the pages and will bounce back.
Duration Deviation (percent) – It's variable to multiple average visit duration per page. For example, If I set duration deviation to 50% and Avg visit duration 240 seconds. Then the bot will browse each page from 120 seconds to 360 seconds.
Min and Max Number of Pages to be Visited – Easy as its sound. You can set min and max pages to visit for each visitor to your website.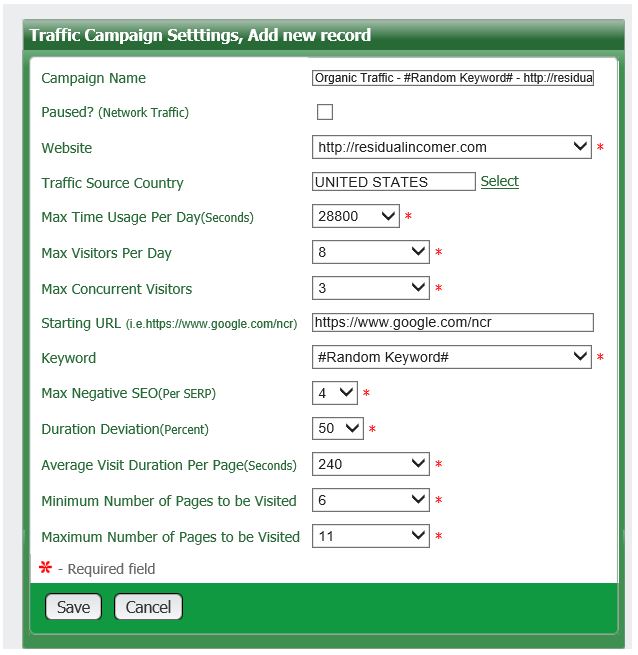 And the last step. To keep it going you will need to run Panda Smart Browser on your PC as well
5. Run Panda Smart Browser
Got to Membership Control Panel and click on Panda Smart Browser V*.*.* in Dropbox. It will redirect you to DropBox to download the PandaBot Browser. Then just download it and install it.
After installation open it and fill out your data and click Start Panda Smart Browser.
I am running it 24/7 to earn a lot of credits. I also have Premium package so I can earn 240% of the time credits
Share below and you will find out how to earn more time credits!
Usage Metrics Results with PandaBot
I have been running PandaBot for two months across all of my websites and results are incredible. And I get this results in first 24 hours.
Below you can find the example on how PandaBot improved ranking of my home electronics website.
Awesome Results
On May 15 I found out about PandaBot and usage metrics from Matthew Woodward blog, and I started using it. In just 24 hours the ranking of the keyword with 60.5k monthly searches went up from 99 to 28!

After this, ranking didn't go up or go down and stayed around 3rd page.
The cool thing the ranking of all keywords improved as well.
On average I improved visitors per day from 43 visitors (April 15th – May 15th) to 127 visitors. (April 15th – May 15th).
And income went up from $25 (April 15th – May 15th) to $221 (May 16th – June 16th).
WOW! 9x income improvement! Looks like I found my gold mine! 🙂
Also the note I haven't done any link building in this period of time.
Is It Safe to Use It?
Yes and no. For now I can say it's safe to use it because It is real users browsing your websites and mimic all users behaviors even negative SEO is there.
But you never know how the algorithm will change in future and Google can find out if it's fake metrics. I guess the only way is to disable this ranking factor form thier algorithm.
Should You Try It?
Definitely! Why not! It's free to join and you can see get free 10 hours of time credit to test it out.


What next for me? I will need to create a website without backlinks at all and try to rank it hight. Stay tuned for next episode 😉 And in meanwhile I will be happy to hear your experience with PandaBot in comments below.